Ok. A couple things have happened these past few months. My birthday happened and went as you know. I eventually got my Nintendo Switch in the mail a week later. My grandmother happened to be looking through the blinds when the UPS dude drove up. The dude literally just left it on the porch, so I'm glad she was looking out at the time. Would have been gone with my f**ed up neighbors.
Now I must say the Nintendo Switch is awesomesauce. I only got a few games, but the best game so far is Zelda: Breath of the Wild. It's a completely beautiful open world with so much to do. Never a boring moment. It's amazing! Plus it's nothing like the Zelda's of the past for me when it comes to saving and dungeons. Like it's the first Zelda game I'm truly content with. Yes, it's still freaking hard, but I love it. xD I also like Mario Kart a lot too and Arms is pretty cool. My only complaint about the Switch is the pricing of the games. $60 dollars for a game that's smaller than a DS cartridge should be a crime!!! That's too damn expensive for any game that's not a PC game. It's double the price of most games I own! I'm going need a job just to keep up.
Haha, on that note I have a job. Well, I haven't started yet, but my job interview was Friday and manager dude called me up to tell me I was hired that same day. 😃 The job is not glamorous whatsoever. It's Mcdonalds, but it's a job. A job is a job, especially in these times. I believe my city was listed as one of the worse cities to find a job among other things, so I'm lucky to get anything. Especially with my job gap and lack of experience to boot. I was to suppose to receive orientation Monday, but it got moved to Wednesday. Hopefully, they teach me how to use the register come Wednesday, which is a big thing I MUST learn to move up and be able to be qualified for better jobs in the future. I really hope I can handle myself much better in this job. I'm a lot more mature than I was when I was working at Kmart and my meds for hormonal issue really help my anxiety, so I'm hoping this a positive experience for me. TBH, this is where I should have started off at. Oh well. I'm going make the best of this opportunity. 👍
As for anything else....Roxie is fine and almost 7 years old. My grandmother turned a year older and still her spunky lovable self. I got new pets. A bowl full of guppies and they had babies, so that's been interesting. I also have a new favorite show to add to the list. Preacher! I didn't get it at first, but I love me some Jesse, Cassidy, Tulip now.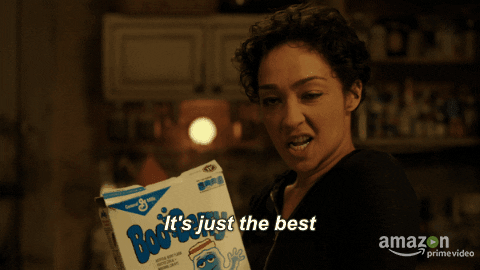 This woman is my spirit animal.
On a more serious and simming note, I do feel my time amongst you simmers is dwindling. This year may be my last when it comes to the community. As time goes on I feel more and more detached from the community. Maybe it's age, maybe it's the atmosphere, the feeling, or maybe it's just time. I really don't know, but this has been a long time coming. Weirdly enough I do think I'll play sims from time to time still, but I won't be publically sharing any of that if I do. We'll see. The year is still young, so I may just be kidding myself.