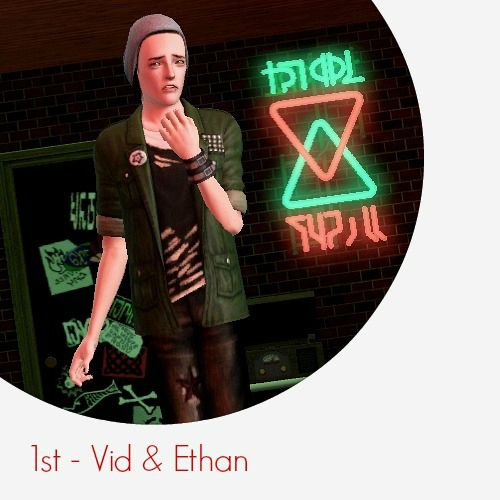 I always hated his pet snake! My roommate was a kindred spirit and an addict of sorts. He had a strange fixation with exotic reptiles. I think he preferred them over the company of humans. When I started staying in his cramp apartment, I use to watch his most prized snake slither around the aquarium he kept it in. I'm sure it was illegal as big it was, but he had a way of getting such horrid creatures. I kept far away from it as much I could. The thought of it eating living and breathing mice made me sick. So when did I add the fear of snakes to my list of issues? The day I walked in and saw it had escaped. I could of swore it got bigger! HELP!
Challenge Pic
Creativity - 26.5/30
Model's Styling - 26/30
Pose - 14.5/15
Link to the assignment - 15/15
Emotion - 27.5/30
Quality - 14/15
+3.5 for 2nd place

Total- 126/135

My favorite image of the round, you've captured ophidiophobia perfectly and you can tell by the pose and Ethan's expression the fear he is feeling. The dank setting adds to the emotion of the image for me and your quality was superb, I almost gave you a perfect score but felt you played this one safe if you get what I mean, feel you could of stretched your abilities even further but without a doubt this deserves the top spot this week!

No Comment

Great assignment! Definitely get the feel that he is afraid of the snake. Would have liked a more creative idea but overall Good Job!

Vid Challenge: Great picture! Model looks good and love the snake skin background!
Woooooo 1st! I wasn't completely sure how I would place this round, because it was quite a few entries that stood out to me. I also wasn't completely happy with my challenge headshot, but I didn't do too bad. Didn't win the challenge portion to sabotage anyone, but I won on the main assignment. That's enough for me. :)
The main assignment required me to show ophidiophobia, which is the fear of snakes. Now this should of been pretty straightforward and easy for me since I have pets, but I uninstalled that game not long ago for IP. Ugh. So I had to go looking around for cc snakes and objects. Yipeee! -_-It was not an easy task. A pain in the ass really.
The only cc snake I did find was the one I ended using. I wanted something much smaller and more than one for the original idea in my head, but I had to settled for that huge thing above. Then I had change stuff around just so the snake didn't look too fake and dumb. Even my setting was completely changed, because I wanted it to be outside and I've never seen a snake that big roaming around in a park or any place. So the outside setting became am apartment type setting in favor of the snake. Despite that inconvenience though, I manage to still make it gritty and appealing. I think a mixture of lighting, clutter and the CAS treatment on the floor really made it pop!
I also had issues with his pose, because frankly I'm running out of scared poses already. lol Thankfully the pose pack I used before came in handy and it didn't look too bad after fiddling with the camera angle.
The headshot/challenge picture was just a bonus I threw together. I kind of took a risk with the background and styling, but like I said it turned out ok.
The next assignment is Xylophobia, which is the fear of woods/forests. I have some ideas and I downloaded something for it. I just need a really good pose and a setting now. I haven't build/created a forest since my last video card died and it kept crashing that last time I needed a forest setting, so I'm nervous. I guess I could try that tonight or maybe after tomorrow when I come home from work. I have feeling this picture is going be difficult, so I'm not really looking forward to it. lol >_<